Mamonde Total Solution Cream 50ml
Mamonde Total Solution Cream 50ml
£30.00
Compare
MAMONDE TOTAL SOLUTION CREAM 50ML
All in one care for elasticity, wrinkle repair, antioxidant effect, brightening and moisturizing.
Ingredients from pomegranate flower offers a soft veiled effect that is enriched with nutrition to create resilient skin.
How To Use:
Take a small amount as needed and apply on your face and neck.
Gently massage until it is completely absorbed.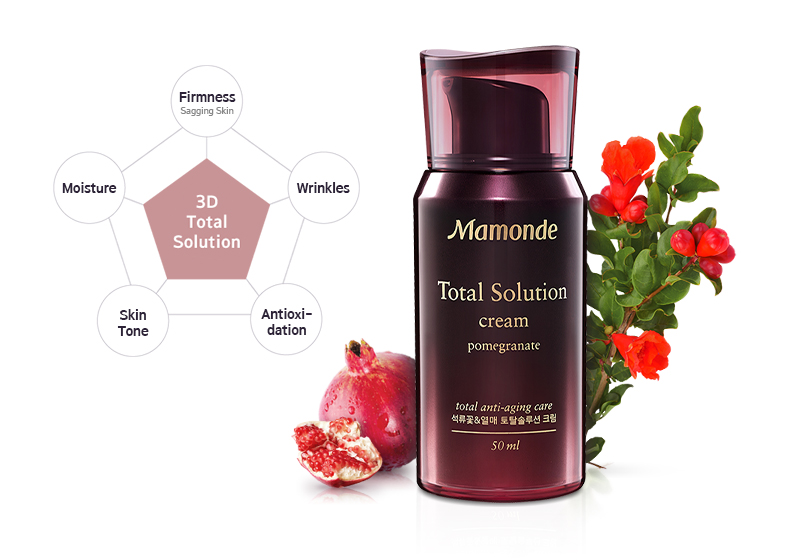 Moisture Coating Effects

The plant based components that provide moisture and protection keep the weak skin around the eyes soft and moist.

Pomegranate Solution

Strong firmness treatment that restores firmness that is constantly fading away.

Pomegranate Antioxidation

The abundant antioxidants in pomegranate flowers and fruits purify skin that has grown tired from the harmful environment.

Effective Wrinkle and Brightening Care

Naturally derived wrinkle improvement ingredients and brightening ingredients for melanin care effectively improve wrinkles and skin tone.
Texture
The Total Solution line with its veiling technology adheres to the skin immediately upon application while providing long lasting moisture and recharging firmness. The pump container makes it even easier to use.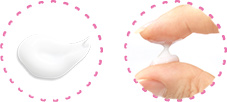 Mamonde Bestseller

Won multiple hit product awards in Korea

After launching in 2003, the solution was constantly upgraded to meet the changes in skin needs among women

2003 Hit Product, Financial News
2003 Consumer Award, The Korea Economic Daily
2004 Korean Marketing Best Luxury Award, Money Today
2005 Kyunghyang Hit Product, Kyunghyang Shinmun
2005 Second Half Consumer Satisfaction Hit Product, Seoul Shinmun
2005 Second Half Hit Product, Segye Ilbo
2008 Sure Beauty Awards No. 1 Bestseller, Sure
2008 Second Half Hit Product, Segye Ilbo
2008 Hit Product, The Korea Herald
2009 Best of BeautyDesign Moisturizing Cream Category No. 1, Allure
2009 Beauty Awards Skincare Category Best of Best, Ceci
2009 First Half Kyunghyang Hit Product, Kyunghyang Shinmun
2009 First Half Real Hit Product, Sports Kyunghyang
2009 First Half Hit Product, Sports World
2010 Hit Products that Beat the Depression in 2010, Asia Economy Daily