Innisfree Jeju Orchid Enriched Cream Mask Set 5ea
INNISFREE JEJU ORCHID ENRICHED CREAM MASK SET 5EA
This sheet mask enriched with Jeju orchid cream delivers rich nourishment deeply into your skin.
This mask contains the active ingredients Orchidelixir 2.0™ that has a specially-coated outer sheet which traps the enriched cream within the mask, while the inner sheet effectively fits snugly on your face to deliver moisture, elasticity and nourishment to the skin.
How To Use:
Apply toner after cleansing.
Pull out the sheet masks (upper+lower) and remove the film.
Place on your face so that they stick snugly.
Peel the sheet masks off after 10-20 minutes.
Pat the remaining cream to help absorption.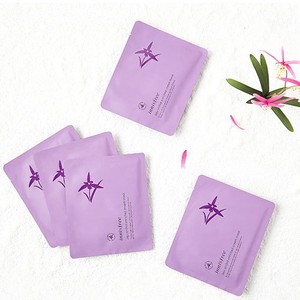 Related Products
Overnight lip balm with green tea to moisturize and nourish your dry lips while you sleep! Contains 99.9% naturally derived ingredients.